Dr. Keith A. Shomper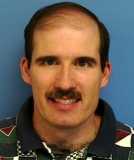 Professor of Computer Science

---
Address
Office: ENS 246A
Phone: (937) 766-3786
Email: Email Me

---
Education
B.A. in Mathematics from University of Northern Colorado
M.S. in Computer Science from the Air Force Institute of Technology
Ph.D. in Computer Science from the Ohio State University

---
Research Interests
Computer Graphics
Scientific Visualization
Distributed and Visual Simulation
---
Personal Interests
Golf
Woodworking
Basketball
Church activities
Biography:
I was born on December 4, 1961 in Harrisburg, Pennsylvania. In 1974, at age twelve, I moved to Littleton, Colorado where I attended Columbine High School. After graduation, I entered the University of Northern Colorado (UNC) as a 3 ½ year scholarship student in UNC's AFROTC program. I completed the program as a distinguished graduate in 1983 and received my B.A. degree in Math that same year.

After college I served in the Air Force for 20 years. During that time, I finished M.S. and Ph.D. degrees in computer systems and computer science, respectively; supported our national war planning effort; and taught undergraduate- and graduate-level courses in computer science and simulation, and managed the computer systems at the Pentagon.

On December 14th, 1984, while on my first Air Force assignment, I married Victoria Dastoli of Dayton, Ohio. We now live near Xenia, OH. We have three children: Rebekah, Matthew, and Jonathan.

All three have graduated from Cedarville: Rebekah (2009, Early Childhood Education), Matthew (2011, Mechanical Engineering), and Jonathan (2013, Accounting).
I've taught at Cedarville since Summer 2003.
---
Class Web Pages
Fall Courses
Spring Courses